You Don't Know Jack
Why did we found BrothersKeepers? That's a gritty story, so hold on for a wild ride. It all began with a guy named Jack Fanning. Even when we were all buddies at school, Jack was a thrill seeker. He found the perfect career as an elite Air Force Special Operations Combat Controller where he got to experience the "extreme sports" side of the military. He served our country on six tours in Afghanistan and Iraq, but it was a routine training exercise that nearly killed him.
Tragedy Strikes a Hero
Jack's life changed forever in 2010 when he parachuted into a blacked-out drop zone. His night vision goggles came loose, so he couldn't navigate safely. He hit the ground hard enough to break his neck. By the grace of God, the strobe on his headgear went off. Jack's best friend found him struggling to stay
alive, and he was rushed to surgery.
In a split second, Jack went from being superhuman to being paralyzed, with injuries that left him unable to move from the neck down. That moment impacted all of his friends and family as well. All of us, especially Jack, became totally committed to finding creative ways to help others facing similar challenges.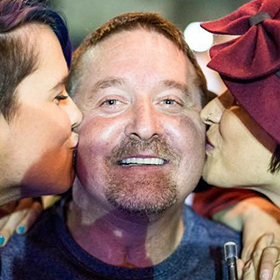 Way More Than a Mascot
Today, this guy is still the beating heart that keeps us all pumped up for the cause. Jack spends a ton of time on the phone, rustling up sponsors for our retreats and organizing every detail of these epic adventures. He's also known to pester wounded vets and first responders until they finally give in and go to a retreat just to shut him up. Don't worry, they thank him later!
Like Jack always says, "If I can do stuff like this, anyone can." Most of us aren't crazy enough to do half the things able-bodied that he does as a quadriplegic (like jumping out of airplanes and setting a world record for diving). But we have learned a lesson about developing the courage and toughness to keep going strong in the face of any challenge. That's why we'll never give up on those who have sacrificed so much to serve our country and our community.
Save
Save
Save
Save
Save
Save
Save
Save
Save
Save
Save
Save
We Are BrothersKeepers. We honor those who serve. Thank you, Jack.
BrothersKeepers is a 501(c)(3) non-profit. Membership and Donations are tax-deductible to the extent allowable by law. We recommend you consult with a tax professional prior to taking any tax deductions.